6 Unique Summer Date Ideas in NYC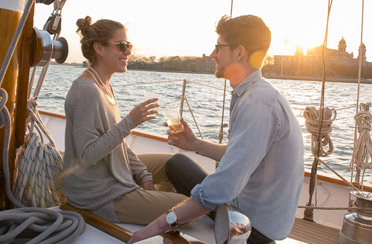 Summer is officially in full swing and the city is alive with energy! Take advantage of the warmer temperatures by taking date night outside. We've rounded up a list of inspiration for romantic, activities that ensure you and your date will have fun and laugh the night away while getting to know one another better. Have additional ideas to add to this list? We'd love to hear! Drop us a message in the comments below.
#1.Go kayaking at the pier.
Each pier in NYC holds a unique adventure, and kayaking at Pier 72 is a must try on a warm, sunny summer afternoon. Grab with lunch at the Boat Basin Cafe before hopping in the water for a few hours of fun. Kayak rentals are free and include both single and double-person options.  If kayaking isn't your thing, Chelsea Piers offers a plethora of great options for getting active.
#2. Set sail on the Hudson.
On Sundays from May through September you can book a sunset sail with your date for a romantic night on the water. Watch night fall on the city with breathtaking views of the lower Manhattan skyline and Statue of Liberty. Pack a picnic basket of charcuterie and fruit to pair with a bottle of fine wine or champagne. For an added plus, plan your evening on a night when the moon is full or close to it. Seeing the city lit up by the moonlight is a priceless experience!
#3. Enjoy a culinary class.
Cooking together is the perfect way to bond with a date. It's always a great fun to work hard to make something, and then enjoy your efforts with your date.  It is sure to provide  a night of laughing, stirring, and sensual eye contact, along with your delicious creations! There are plenty of culinary classes around the city including Sur La Table, Bowery Culinary Center, and the Institute of Culinary Education.
#4. Stargazing on The High Line
The High Line Park is the perfect place for a stroll on a warm summer night. Gaze at the stars and share an ice cream cone as you wander through the elevated park and discover beautifully repurposed train tracks and city architecture. The High Line starts in the Meatpacking District and goes all the way up to 34th Street so wear your walking shoes!
#5. Wander through the Gardens.
Escape from skyscrapers and traffic by touring the New York Botanical Garden in the Bronx. It has 14 different gardens to peruse along with events and classes such as wild medicine, gardening, and cooking demonstrations.
#6. Enjoy outdoor entertainment.
From Shakespeare in the Park, to movie nights under the stars, to dozens of outdoor concerts around Manhattan and Brooklyn, the opportunities for enjoying the arts with your partner this summer are endless! Be mindful that it's hard to get deep into conversation at a loud venue, so it's probably not the best first or second date option. Save it for a night after you and your date have had a chance to get to know each other a little better.